Few Screenshot di Data Breach Registry®
An intuitive Dashboard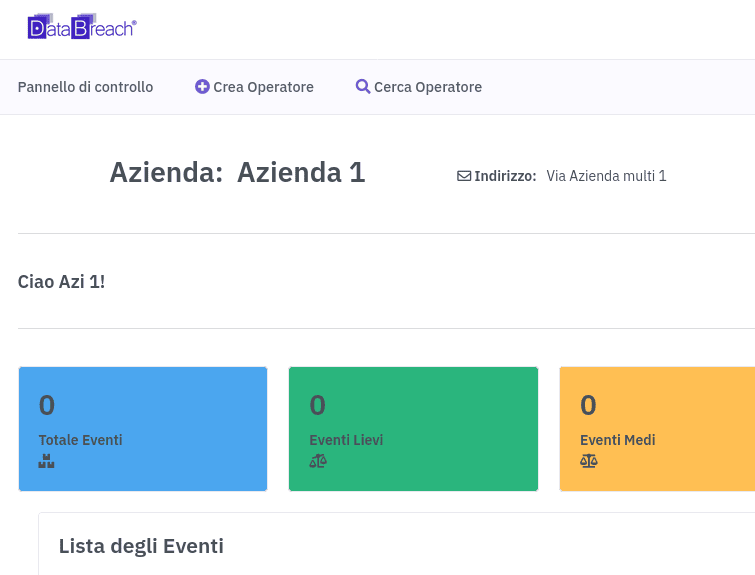 The Dashboard
Data Breach Registry® has a simple and intuitive control panel, with a simple glance the main data are at your disposal.
---
Strengths
Intuitive
Personalized
Interactive
Searchable event grouping
Events Search
Data Breach Registry® creates a list of Events, which is shown in a convenient grid and can be found by the internal search engine.
---
Strengths
Lightspeed fast
Events that can be sorted by fields of your choice
Internal Search Engine with filters
PDF Generation Events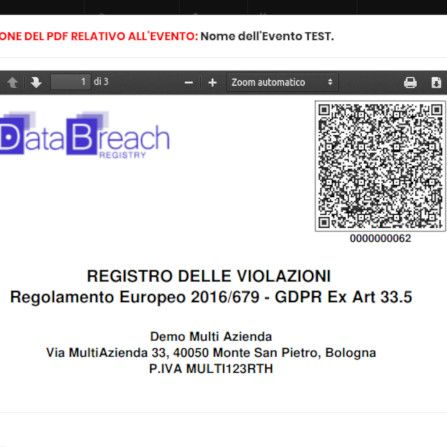 Events PDF/A Format
With Data Breach Registry®, the lists can be exported in protected PDF A, in order to guarantee the veracity of the documents.
---
Strengths
Protected Documents
Events fully translated into English
Safe and demonstrable management
Event versioning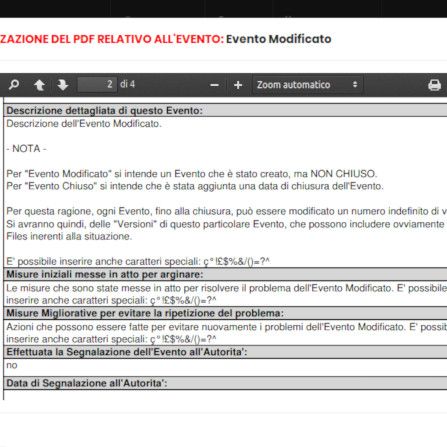 Infinite Modifications
With Data Breach Registry®, Events can be modified, whenever necessary, until they are closed. For each modification, a new and subsequent Version will be automatically generated. At the close of the Event these will no longer be editable.
---
Strengths
Consequential Event Versioning
Fully Documented
Demonstrability Compliance
Versioning of events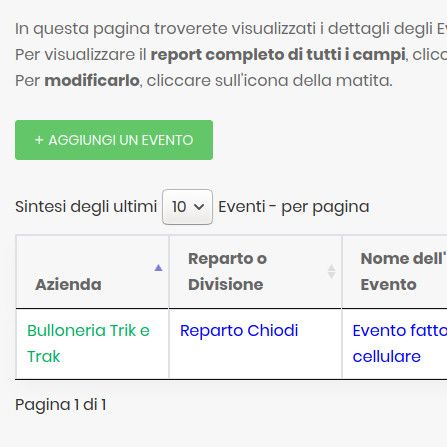 Ease to Use
Using Data Breach Registry®, compilations can be added with the push of a button, which will open the section dedicated to entering the necessary data.
---
Strengths
Ease of use with Examples
Encrypted databases
Secure Access
Event versioning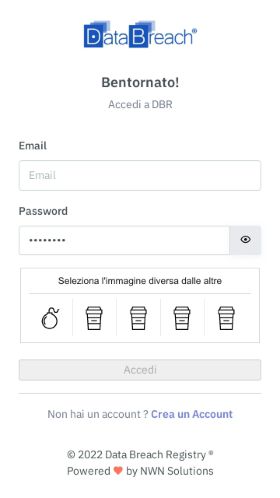 Design Responsive
Data Breach Registry® is fully responsive, and can be viewed and used with any device: computer, tablet or smartphone.
---
Strengths
100% Responsive
Optimized for Usability Guidelines
Create Events even with mobile phones
DATA BREACH REGISTRY ® IS:

fast

according to law

secure

and can help you
to fulfill the obligations of the GDPR by making the
Compilation of the Register of Violations
The Register of Violations is a necessary fulfillment pursuant to the GDPR, this is clear from a careful reading of Article 33 of EU Regulation 679/2016. Here you can find the behaviors to adopt in case of having to proceed with a " Notification of a Personal Data Breach to the Supervisory Authority".
The article, in addition to listing how a notification should be made, with what methods and with what contents, specifically tells us, in point 5, that:

5. The data controller documents any Personal Data Breach, including the circumstances surrounding it, its consequences and the measures taken to remedy it. This documentation allows the supervisory authority to verify compliance with this article.

Data Breach Registry ® - DBR -was developed basing its structure both on what is reported in this specific point of the article, and taking into account the instructions of the Personal Data Guarantor Authority on how a report should be made. Keeping the Register of Violations via DBR therefore makes the Data Breach Registry ® a preparatory tool for a correct and assisted compilation of any report, as well as giving it a value high to demonstrate the Compliance of your Structure in the management of Data Breach, giving the documents generated a Legal value. The NWN Solutions Team also gives to all its Customers Support for the correct Compilation of the Infringement Register, which is included in each License.
---
The Features of DBR
Customer Support
Provided in both first and second level and technical support 24/7/365.
Proprietary document process
A Platform created ad HOC to Protect you Users.
Proprietary Webtool
Developed and Produced by NWN Solutions, following the Guidelines of the Guarantor.
Secure Storage
Secure archiving process, compliant with current regulations.
Uploading Attachments
Possibility to upload all the necessary Attachments within the Registry.
Download of Events in ZIP format
In order to thus allow the conservation, also in compliance with the law, of the Register.
PDF/A Generation Secured
Regulatory protection of generated files, also in English
For SMEs, Multinationals and PA
Licenses created ad HOC, for all realities.
Furthermore...
During the development of Data Breah Registry® we thought of a management platform that could also be used by complex commercial structures. The presence of dedicated access panels has therefore been envisaged, including the one reserved for Distributors, so that they can manage the structure pertaining to them, made up of Resellers and Points of Sale, whether these are linked to Resellers same as independent.
Our Tool dedicated to compiling the Register of Violations is aimed at the entire market, therefore also at medium and very small structures. Those who normally follow this type of reality are Resellers, a category to which we have dedicated particular attention, arranging preferential access to a dedicated section. In this way the Resellers will be able to autonomously manage the points of sale connected to them and thus create a clear reference chain.
In the Data Breach Registry® design phase we tried to think of a Tool that could be taken into consideration by the entire market, going to structure a product that could adapt to any reality. So we proceeded to divide and think about types of Licenses that could be suitable for realities of any size and type: from the micro company, to the SME to the Public Administration< /strong>, without forgetting companies with multiple offices, both national and international. A license for every need.
NWN Solutions Contacts
Try DBR NOW
Get started now: you can try Data Breach Registry® and its features for free for 15 days; no payment required or obligation to purchase!
Create an Account on DBR in just a few steps, dedicated to your Company's Compliance: if you have any doubts or questions, do not hesitate to contact us.
---
The Headquarters
---
Business Hours
Monday - Thursday 9.30/12.30 - 14.00/17.00
Friday - 9.30/12.30
Saturday and Sunday - Closed
---
Blog
Recent posts form our Blog